Rufus Alternative: Best Options For Mac And Linux Users
Dhir Acharya - Feb 17, 2021
--- Rufus is one of the best tools for creating bootable USB drives, but it's exclusive to Windows. What is the Rufus alternative to use on other platforms?
Rufus, which stands for the Reliable USB Formatting Utility with Source, is a free, open-source portable app for Microsoft Windows that you can use to format and create bootable Live USBs or USB flash drives. The downside is, the software is exclusive for Windows devices, so many users have to look for a Rufus alternative when using other platforms. Here are the best alternative software candidates we found for you.
Table of Contents Etcher
While Rufus sets the golden standard for creating bootable USB drives, Etcher is compatible with all main platforms, making it the best Rufus alternative Mac. The software also supports all system images such as DMG, ISO, and IMG.
Etcher is easy to use with a straightforward user interface. All you have to do is selecting a system image, USB stick, and clicking on Flash. In addition, the software flashes images fast though it's a bit slower than Rufus.
The best thing about this software is its Image Validation that verifies that system image as well as removable drive before flashing. This way, it takes users less time in writing images on corrupt USB devices. PowerISO
The second alternative to Rufus we would like to introduce to you is PowerISO. Apart from creating bootable USB drives, this software also provides several other features such as mounting disk, converting image formats to ISO, and virtual drives.
At the same time, this software can generate bootable USB drives quickly like Rufus. Speed is a big advantage of this software and it doesn't overwhelm users with many advanced options.
However, this is a Rufus alternative Windows, meaning it cannot work for macOS or any other platform.
Media Creation Tool
If you are using a Windows computer but still want a Rufus alternative, this unique app is a good option. It allows you to download Windows 10 and create a bootable USB automatically. Based on the architecture of your PC, the software will detect the compatible configuration then downloads the latest Windows 10 image.
However, it takes longer than Rufus to create a bootable USB drive.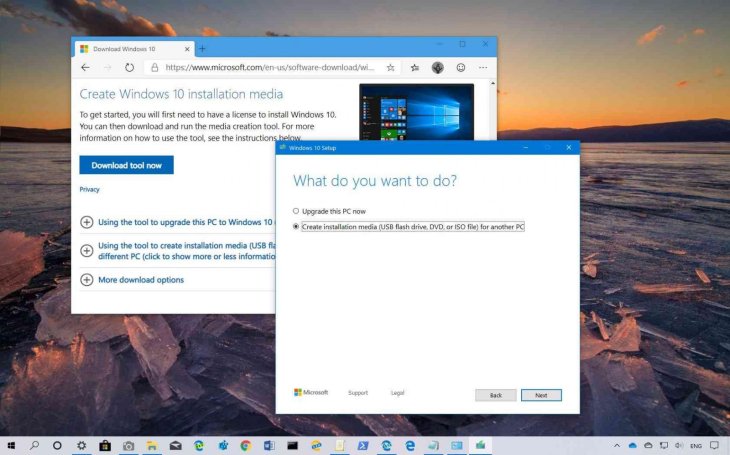 UNetbootin
This is another widely used Rufus alternative for Ubuntu as well as other Linux distributions. This tool is lightweight and works with different Linux distros. Best of all, other platforms can benefit from this tool as well, including macOS and Windows.
Essentially, you can create Linux-based bootable US drives from a machine with no problems. This software can rival Rufus as it works very fast.
Universal USB Installer
This software was mainly developed for Linux-based distributions though it can flash Windows ISO images as well. It's a great option for those who are looking for support for both Linux and Windows system images.
Furthermore, the tool can quickly create bootable USB drives in just minutes. Overall, its performance, as well as platform compatibility, are very close to Rufus. It also comes with an inbuilt USB formatting tool that you can use to free the storage on your USB drive after installation.
Diskmaker X
This is another amazing Rufus alternative for macOS users with the ability to seamlessly build a bootable macOS image. It's simple to use this software, you just need to launch the app and it will find the installation file.
Then, it will find the USB drive and offer to flash the system image. When it comes to performance, the software is fast and works well. The best thing about this tool is probably that it supports Mojave. Win32 Disk Imager
This is among the oldest programs to flash low-level utilities like ARM-based and Raspbian operating systems on SD cars as well as USB sticks. Win32 Disk Imager is a good Rufus alternative since it performs extremely well and flashes very fast.
Even better, its interface is simple and user-friendly. You just need to provide the source of the system image and choose the device to flash on. Then, press on Write and you're done.
WoeUSB
This tool allows for creating a Windows bootable USB drive on the Linux platform. It means when you use a Linux distro, like Ubuntu, you can use a tool to flash Windows ISO images on a removable drive. Best of all, unlike other Linux platforms, it features a GUI interface that helps you quickly build a USB installer within a few clicks.
Additionally, the software is compatible with different Windows versions from Vista to Windows 10. It also works with Legacy BIOS, MBR partition as well as the newer UEFI mode. Overall, this tool is a perfect choice for those who want Rufus-like features on their Linux device to create Windows bootable drives.
TransMac
For those with the need to create a macOS bootable USB with a Windows PC, this is a great tool you can use. It's easy to use like Rufus, you just need to download the macOS DMG file then import it to TransMac. Moreover, inserting the bootable USB drive and the software will format it in APFS file format.
The flashing process takes a little longer as the DMG image is encrypted but the app works well and it gets the job done. It's a bit slower than Rufus.
>>> Best Drawing Software To Replace Procreate For Windows Users
Featured Stories