Top Best Camera Smartphones In India On The World Photography Day 2019
Jyotis - Aug 21, 2019
--- Take a quick look at the 5 best camera smartphones in the Indian market in 2019 to find out what is the most suitable one for yourself.
The World Photography Day brings a great chance for those who fall in love with the art of photography, even when you just have camera smartphones, instead of a professional photographer. Most current camera smartphones have had a lot of notable improvements from camera sensors to software optimizations. And therefore, if you are just an automatic photographer, these tech products can also help you to adjust basic settings for taking a standard frame via machine learning. Take a quick look at the 5 best camera smartphones in the Indian market in 2019 to find out what is the most suitable one for yourself.
1. Huawei P30 Pro The P30 Pro from the Huawei brand belongs to the list of the first camera smartphones that are designed with 50x zoom. With its special optimizations, the handset promises to help you to capture wonderful moon shots. Also, it has 04 rear cameras as below: 40MP main sensor, 20MP wide-angle sensor, a Time of Flight (ToF) sensor, and 8MP zoom lens. The P30 Pro is powered by a Kirin 980 processor that ensures smooth performance. It is now sold for Rs 71,990 in India.
2. Google Pixel 3 XL The Google Pixel 3 XL is a typical example to show that specs and high megapixel camera are not a must to have beautiful photos. Google's developers leverage advanced software algorithms to enhance the quality of photos via both lowlight and daylight settings for this smartphone. When it comes to specs, the Pixel 3 XL comes with a 12MP rear camera with the f/1.8 aperture and two 8MP front cameras, supports optical image stabilization (OIS), electronic image stabilization (EIS), and phase detection autofocus. It is now sold for about Rs 52,400.
3. Xiaomi Redmi K20 Pro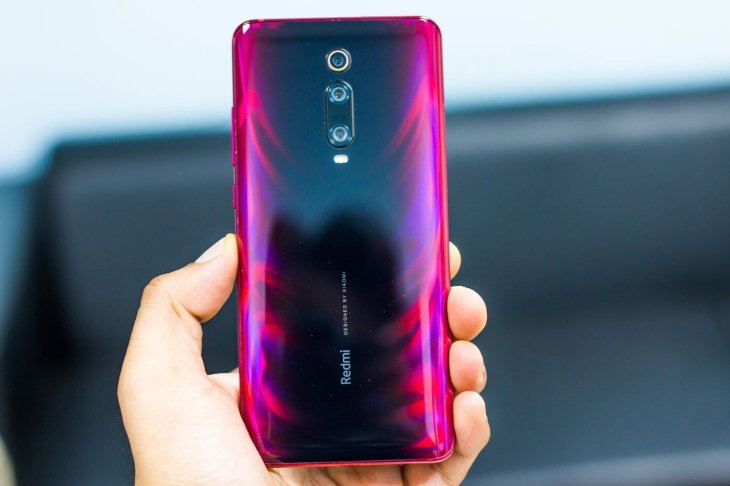 In terms of cameras, the Xiaomi Redmi K20 with three rear cameras manages to defeat the OnePlus 7. Released on May 2019, the device is designed with 48MP main sensor (Sony IMX586 with the f/1.75 aperture), 8MP 2x optical zoom telephoto lens with the f/2.4 aperture, and 13MP f/2.4 aperture 124.8-degree super wide-angle lens. With this smartphone, users can easily capture impressive photos in daylight settings. In addition, when it comes to the lowlight performance, the Redmi K20 can compete with the OnePlus 7. However, its price is even more attractive than the OnePlus 7. It is now available on Rs 27,999.
Read more: The Best Camera Phones Under Rs. 15,000 In India So Far
4. Realme X The Realme X may be the perfect option for those who are looking for a smartphone with an excellent selfie camera and high-end design. It features a 5MP f/2.4 aperture sensor and a 48MP (Sony IMX586) f/1.7 aperture sensor. It also supports Chroma Boost, Super Nightscape, as well as many new portrait modes. Similar to some other camera smartphones, the Realme X allows users to record 4K 30fps videos. It is now sold for Rs 16,999 in the Indian market.
5. Redmi Note 7 Pro The Redmi Note 7 Pro from the Chinese phone-maker Xiaomi belongs to the top cheapest camera smartphones with 48MP Sony IMX586 sensor. It is equipped with a 48MP f/1.8 aperture camera and a 5MP f/2.4 aperture camera. This handset supports 4K 30fps videos, similar to the Realme X. Besides, it has a 6.3-inch full HD bezel-less display with the resolution of 1080 x 2340 pixels and 4000mAh battery. The Redmi Note 7 Pro is powered by a Qualcomm Snapdragon 675 processor.
Read more: Best Rugged Smartphones Of 2019
Featured Stories